Monday Musings: More Sports TV, Please
While watching Apple TV+'s Swagger this weekend (review coming this week!), I couldn't stop thinking about Sin City Saints. Though Yahoo! Screen's short-lived, underwhelming 2014 series about a Las Vegas basketball team (starring Malin Ackerman, Tom Arnold and Mixology's Andrew Santino) was as dead on arrival as the platform it aired on, there was a nugget of an idea embedded in that series, a mix of workplace comedy and industry satire that, in the right hands, could quickly fill a niche that only seems to be filled once or twice a generation.
For every Friday Night Lights, Brockmire, or Eastbound and Down, there are dozens of failed experiments to capture sport on television, especially in recent memory. Some of these are like Dare Me and Pitch, interesting concepts cut down before their time – more of these tend to be like Sin City Saints and Netflix's recent The Crew (which I still think should've been good!), unfortunately, series that try to coast on superficial understandings of the sport and/or industry they're exploring.
Even television's most prominent sports show right now, Swagger's network mate Ted Lasso, struggles to actually be a series about sport: putting aside some of the laughably bad scenes of competition themselves, Ted Lasso's coherency with the philosophies of football and their application to life are… inconsistent, at best. Even compared to Dare Me, which only expressed its athletic musings through hypnotic, slow-motion sequences mostly taking place in cheerleading practices, Ted Lasso's fundamental grasp of its sport is tenuous – which, some might argue, makes it a lesser series than it could be at specific moments (though admittedly, it's handling of Roy Kent's retirement has always been remarkably sharp).
Television really needs to have more great scripted series about sports; as the intersection of philosophy, religion, society, and entertainment, sports have held a singular place in civilization's fascination with both the mental and physical fortitude of the human form, and the dramatic satisfaction of exploring the limits of mind and body within. They are also ludicrously popular and lucrative; within that capitalistic structure are thousands of opportunities to tell stories about people in sport, and adjacent to sport itself (tell me you wouldn't watch a Lodge 49-style show about a group of stadium personnel – I fucking dare you).
As a microcosm of life's experiences, the potential is abundant; so why is it we only get a tiny fucking morsel once or twice a decade? Maybe some of this comes from the NFL's backlash to Playmakers, a flashy, promising ESPN original series canceled after one season from executive pressure over the show's contents. Unsurprisingly, the massive conglomerations of professional sports are often unwilling to provide a space for stories to be told that might damage their product (though… arguable their various PR teams do that for themselves on a regular basis), which I think sometimes pushes networks away from greenlighting these kinds of shows, even if they can operate in their own fictional league and world (hell, even low risk stuff like Tiny Little Things and Spinning Out struggled to garner a larger audience).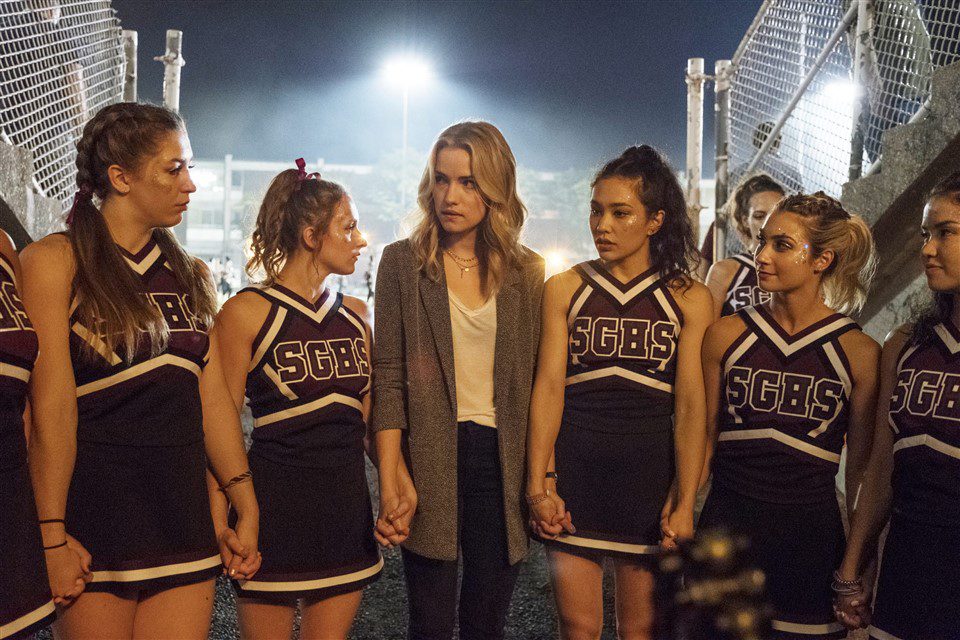 Perhaps some of it is just the assumption that sport is better reserved for film (which, generally speaking, time has proven its not). Or maybe it is just a matter of lack of overlap; while there are certainly plenty of people who played sports growing up working in the industry, it's not often creative types come into the industry with tons of professional sports experience under their belts (though hey, Kareem Abdul-Jabbar's been on writing staffs, at this point – it's certainly possible), so it may just not be a natural avenue of storytelling for a lot of creators. But when I think of a genre with a ton of untapped potential, my first inclination is to whip up a bunch of fictional sports-related premises.
And hell, for any network executives reading this, you could even do this with lazy fucking adaptations! I'd watch the ever-loving shit out of a For the Love of the Game miniseries – or if we want to do things right, a Bull Durham show. But the potential is endless; a workplace comedy about a ice rink maintenance team, a Rectify-type drama about a 16 year old Venezuelan shortstop, a show about a European female basketball player immigrating to America, or one about an African footballer's career (let's just say that one is done This Is Us style, so there's a little bit of Established Hit Boner Factor thrown in). I mean, I can't believe Disney hasn't announced a dramatic Sandlot reboot yet – and where the hell is the sanctimonious Sports Night sequel/reboot America deserves?
I just thought of those premises while writing the paragraph; it's easy to see how endless the potential to tell stories of conflict, of triumph and failure, of passion and devastation, within the confines of any sport imaginable (sitcom about a curling team – I'm sorry, they just keep coming now). Perhaps Swagger can provide a window to begin unlocking the potential so many networks continue to ignore; but if we can get an expensive Game of Thrones prequel precisely nobody asked for, then there's gotta be someone, somewhere ready to throw some money at another sports show. At least, I hope so, because I don't want to live in a world where there's not.