How I Met Your Father Season 1 Episode 1 Review: "Pilot" Can't Quite Find Its Voice
CBS has been trying to make another How I Met Your Mother for a long time; this current version, developed by Isaac Aptaker and Elizabeth Berger, is the studio's fourth, seemingly misguided attempt to try and recapture the magic of Carter Bays and Craig Thomas' iconic mid-aughts sitcom. And How I Met Your Father's pilot certainly feels that pressure to be the next HIMYM, and all that comes along with that – but for a pilot that's undergone so much change over the past seven years (giving it some much-needed space from the original's legacy-drowning series finale), How I Met Your Father's first half hour is just intriguing enough to set the stage for a ten-episode first season.
Both to its credit and detriment, "Pilot" mirrors its predecessor in a lot of ways, sometimes winking at twists in the iconic HIMYM premise rather than fully embodying something generationally different. Some of that is intentional; the final moments of the pilot reveal two of our main characters live in the old Mosby/Erikson apartment, ostensibly above McClaren's, the bar we spent 200+ episodes of our 20's in (or at least, I did), so "Pilot" is definitely commenting on the ubiquity of human connection, and the cyclical nature of love stories – the idea that similar experiences can still persist for our new set of protagonists is an endearing undercurrent to a pilot that does sometimes feel afraid to step out of the iconic shadow left by How I Met Your Mother.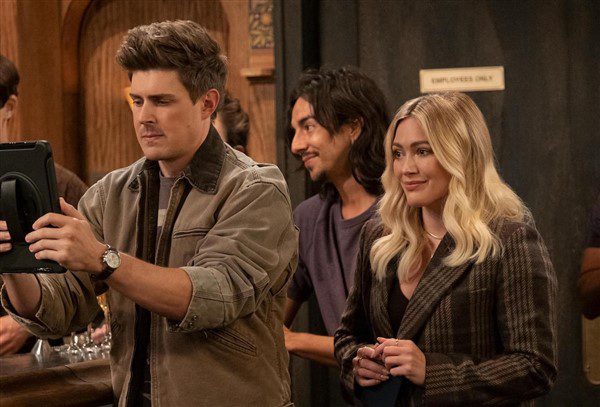 "Pilot" is our introduction to Sophie, both in 2022 (Hilary Duff) and 2050 (Kim Cattrall, who also narrates), a photographer who has her heart set on Ian, her 87th Tinder date in 2022, as the man she's inevitably going to marry. When he, on their first IRL date, reveals he's moving to Australia, Sophie is left languishing amongst a group of friends whose lives are moving forward; her roommate Valentina (Francia Raisa) has a new live-in boyfriend, and she meets Jesse, an Uber driver whose best friend proposes to his girlfriend in the episode's second act.
Sophie, finding herself quickly moving into a crossroads of her adult life, is strangely the pilot's most thinly drawn character; that's not a knock on Duff's performance, but Aptaker and Berger's script carefully step around nailing down any specific qualities of Sophie's character (beyond her unexpected romantic streak) in a way that may work as a vector to introduce a sprawling set of characters and circumstances, but doesn't do enough to endear us to Sophie's particular circumstances and struggles in the modern dating world.
Oddly, watching How I Met Your Father gave me vaguely Selfie vibes; though everything from the premise, to the format, to the comedic cadence are completely different, HIMYF's attempt to mix romantic comedy and app-adjacent social commentary feel like they are built on the same blueprint, trying to push towards a similar truth about love being something that just happens, not something you can catalyze out of nowhere.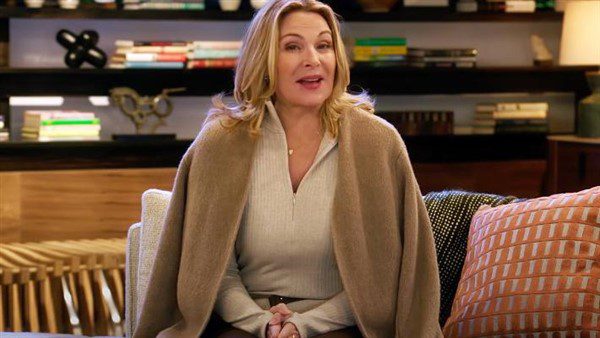 The episode's final twist – that The Father is one of the men we meet in the first episode – is another telling sign of that optimism (You've Got Mail is mentioned, a salient analogue for a pilot about dating apps), the writers of HIMYF offering proof for its concept, and also directly shying away from the open-ended mystery of the series that came before it. Time will tell whether this ultimately limits the show's ability to put together interesting arcs for romantic guest characters – but I think given how this first episode does a lot of legwork to bring strangers together, this series is actually aiming for something closer to Happy Endings than it is HIMYM, or even Selfie.
There's still plenty of work to be done, of course – given just how much exposition How I Met Your Father needs to spit out in the span of 25 minutes, it's no surprise some characters like Jesse feel thinly drawn – unfortunately, Ian is the one character we meet who leaves, who is initially the most intriguing (he's an actual marine biologist! They exist!!!). Without a Barney character to consistently deliver punchlines (and later, serve as an important proxy to build the show's vast, expansive lore), it remains to be seen where How I Met Your Father injects its personality; "Pilot" is charming and nimble, but strangely flat when considering its characters outside of context.
(Not that I'm saying this should have a Barney; Barney's more rape-y qualities are probably best left in a pre-Twitter world).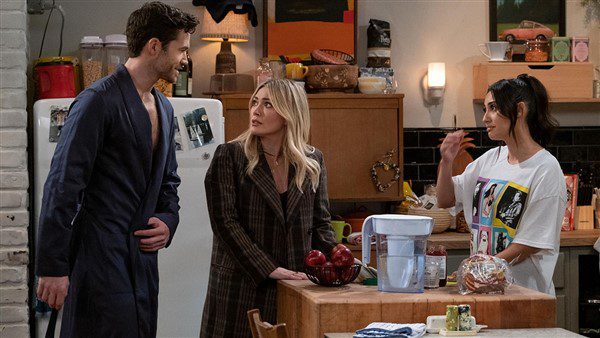 It also be remains to be seen where How I Met Your Father distinguishes itself structurally; one of the reasons this show is able to exist is because HIMYM's narrative delivery has proved a huge influence on modern television – an impact I don't think anyone could've predicted at the time would've been so lasting(especially as every network comedy trotted out a character type that was basically just "Sloppy Barney"). The show's whip smart delivery and breakneck pace were unmatched on TV at the time; and though HIMYF has some of that energy, it is missing that unexpected element that made the many ambitious pieces of HIMYM finally fall into place in season one's "The Pineapple Incident".
How I Met Your Father could certainly get there; but with only nine more episodes in its freshman season to figure it out, it certainly has to make some deterministic choices quickly to have time to stick any sort of proverbial landing. In that sense, "Pilot" feels like an incomplete thought, lacking an obvious direction or narrative fulcrum to build its first season on (though with an engagement, a long-distance romantic interest, and new friendships, there's definitely opportunities to explore).
The more distinct How I Met Your Father can make itself as it grows, the more it will be able to do whatever it wants, and build itself an identity outside of the shadow of its iconic forefather – and of course, the multiple aborted attempts to recapture the old quirky, extremely versatile Slapsgiving magic. Only time will tell if it can pull it off; at the very least, "Pilot" is humorous and energetic enough to avoid falling on its face out of the gate – and more importantly, offer a glimpse of the kind of elite potential we're all tuning in to see it find.
Grade: C+
Other thoughts/observations:
Welcome to How I Met Your Father reviews! A review of "FOMO" will drop at 10am EST today, and reviews will drop at 8am on Tuesdays throughout the first season.

When they revealed Ted and Marshall's apartment at the end, reader, I teared up a little. For all its flaws, How I Met Your Mother (which premiered during my freshman year of college) was an important series during a foundational time of my maturity, and will forever be a series I associate with growing up. If there's going to be one callback to the original series (I imagine it is not the last, of course), I'm ok with this one.

Ian appears to be a recurring guest character, so I'm thinking there will be more to this Australian storyline soon.

Any pilot that has the phrase "cacophony of piss" is a winner in my book.

Sophie's heart is "in street photography", which feels like a premise for a 2002 romantic comedy, not a 2022 sitcom.

How I Met Your Father DOES have a laugh track, which I think is a beautiful thing. HIMYM was built on a fantastical, theatrical foundation of comedy as it grew into self, and I fully expect this show to embrace its hybrid format in equally rewarding ways.

How do you avoid the issue of filming your ending with children years before it actually airs? Don't fucking show the children in the pilot!!! Very smart move, How I Met Your Father.